Oil Portrait Painting Step by Step
Although commissioning a custom portrait generates great fascination, you need to take certain precautions when ordering it. It's very important to ensure the portrait artists who are about to paint your oil portrait follow certain steps. They need to take care of every detail in order to create a 100% handmade masterpiece that will amaze you.
Our oil portrait painters pay careful attention to each step of the process. They devote the necessary time and dedication to achieving an oil painting of the highest quality — from the initial pencil sketch of the photo to the completion of the detailed oil portrait.
This handmade process consists of the following steps: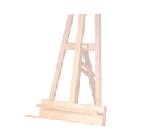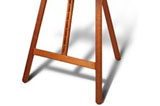 Step 1
Steps 1 & 2: The portrait artist outlines the composition of the oil portrait in pencil. He plans the entire professional portrait very carefully to obtain the best possible result.
Step 3: The portrait artist covers the canvas with a very light oil cloak to give the portrait a uniform color. This process, known as "imprimatura," gives the artist a warmer, more uniform background. The cloak is light enough so the artist can still see the initial pencil sketch.
Steps 4 & 5: The portrait artist begins with the composition of the model's custom portrait. He also paints a first cloak of the bodies and backgrounds without starting with any details.
Steps 6 - 8: The portrait artist adds details to the person's figure and begins to paint over the previous cloaks.
Step 9: The portrait artist applies the final finishing touches to the oil painting. During this phase, he begins to perfect the details of the previous cloaks.
Step 10: The portrait artist finishes all the details and completes any necessary corrections to obtain the best final result.