Children Portraits
What can evoke more tenderness than an oil painted portrait of a child? There is no better gift for a mother than a portrait of her own children. Just imagine the look of surprise on a grandfather's face when he sees the oil portrait of his beloved grandchild. Baby portraits and paintings of children hold a very special fascination and are especially cherished.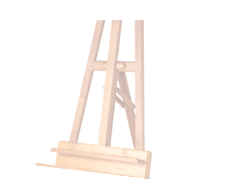 Are any of your friends celebrating the birthday of their son or daughter? They are sure to be surprised and touched when they open the painting of their baby. They will appreciate the captured memory of their child at such a special age.
What about ordering an oil portrait of your newborn baby? The months will pass by very quickly. Although you won't be able to keep your baby this age forever, you'll be thankful you were able to capture your son or daughter in an oil painting.
As you can see, oil portraits of children have a special value that is not only aesthetic, but also emotional. The custom portrait of a baby or child is a very valuable object in any home. However, the emotional value is even greater since the children and baby portraits are able to capture an ephemeral stage in the life of that child.